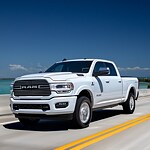 It's not easy to be named as one of Meadville, PA's most popular, heavy-duty pickup trucks, but the Ram 2500 does it. Boasting a name that is equivalent to durability and decades of quality craftsmanship, the Ram 2500 was made to shine. From the frame to the powertrain to the exterior, this pickup truck was designed with durability at its Meadville forefront.
The Ram 2500 gives you the power to push through day in and day out with a notorious engine that is equated with power. Sporting a 6.7L Cummins Turbo Diesel, the Ram 2500 has all the power you need, and more, to get the job done.
Though starting may be easy, stopping is a little more difficult with the drive and dedication that the Ram 2500 has to offer. Drivers get a little help with a Smart Diesel Exhaust Brake System that controls slowdowns and saves wear on your brakes. Try it out for yourself during a test drive in this machine at Griffin Motors Company.