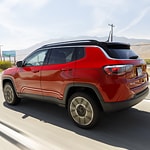 As you shop for a reliable and popular family vehicle, look at what the new Jeep Compass from Jeep can offer to you. Designed to be a headliner in the compact SUV world, it has the exterior features that you need to keep your family safe and well-provided for on the road.
It comes, for example, with a panoramic moon roof that you can open and close easily with its sliding panels. You can let in ample light and air during road trips to keep everyone in the cabin comfortable and happy.
It also has a back gate that is easy to open with the touch of a button. It opens and closes with ease, so you avoid getting fingers stuck in the door. It also opens to a back cargo space of more than 60 cubic feet of storage area. Learn why the Jeep Compass is the right family vehicle for you. Test drive Jeep's newest compact SUV today.